Information about the company  Indian
Founded
1901
Founder
George M. Hendee Oscar Hedstrom
Headquarters
Springfield, Massachusetts, United States
Key people
George M. Hendee
Official website
indianmotorcycle.com
History of Indian motorcycles and logo
Renowned motorcycles of «Indian» brand were started releasing by Hendee Manufacturing Company in 1901 in Springfield, Massachusetts, USA. George Hendee and Oscar Hedstrom used to be successful racers. They organized a joint production and in one year successfully created their first motorcycle, which characterized by significantly different constructive innovations of that time. The company became the largest motorcycle manufacturer in the world. Every time it released fresh models with new useful innovations. For example, in 1907 firm produced a motorcycle with a V-twin cylinder engine and tube, closed frame, the front fork with quarter-elliptic leaf springs. Speaking about equipment, «Indian» motorcycles ahead of its competitors for several years. Having lost a controlling stake in 1915, heads resigned, and company got new executives. In 1928 firm was renamed as «Indian Motorcycle Manufacturing Company».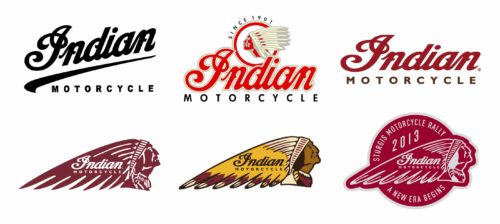 After the bankruptcy in 1953, the «Brockhouse Engineering» bought the rights to the brand. During 1955-1960 they imported the «Royal Enfield» British motorcycle models and started selling it under the «Indian» brand. In 1960 the «Indian» brand was acquired by British «AMC» firm, which stopped selling all the vehicle models. In the mid 60-ies of the XX century, Floyd Clymer began to use «Indian» brand but did not acquire it in the previous owner. He started releasing the «Italjet» motorcycles under this brand`s name.

Floyd Clymer died in 1970, and his widow decided to sold «Indian» brand to Alan Newman, the lawyer from Los Angeles. He continued releasing «Italjet» motorcycles and even built a factory in Taiwan for this. In the 1990s retro style become a fashion and extremely popular around the world. So several companies competed for the opportunity to revive the legendary brand.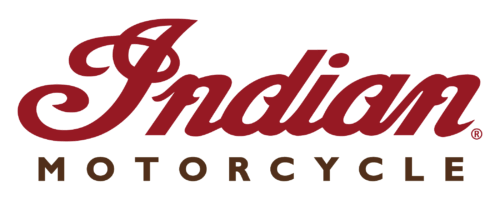 In 1999 the Federal court decided to transfer the rights of «Indian» brand to the Indian Motorcycle Company of America which restored legendary motorcycles. New factory of «Indian» motorcycles manufacturing was opened in Kings Mountain in 2006. It belonged to the registered in London «Stellican Limited» company.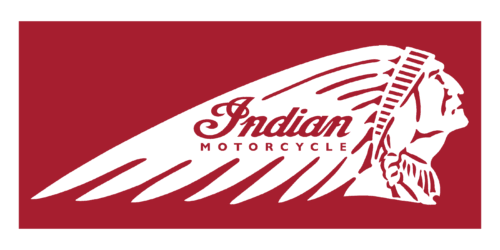 The «Indian Motorcycles» is considered to be one of those companies which use different logotypes for almost every new released line of motorcycles models. However, these all various emblems were united by one common detail: Indian motives are clearly seen. Indian logo is the logotype with the Indian head image and the company name inscription was the most popular among customers. Speaking about inscription, it was made only by the same letters shape.The first logo (the head of Indian) was applied to the tank from both sides.
One more emblem – the circled Indian head with «Indian Motorcycles 1901» inscription was extremely popular in the certain period of time but later it almost disappeared. Nowadays the official logotype looks like the «Indian Motorcycles» inscription on red and white colored background.
Logos and emblems of Indian company