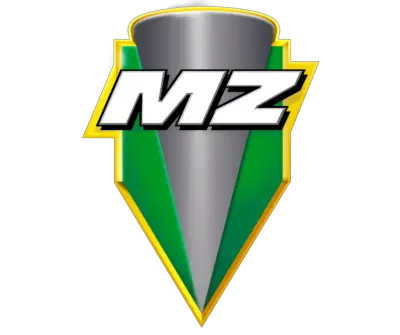 Information about the company MZ Motorrad
Founded
1906
Founder
Jørgen Skafte Rasmussen
Headquarters
Zschopau, Germany
Key people
Martin Wimmer
Official website
www.muz.de
History of MZ Motorrad motorcycles and logo
Motorradwerk Zschopau is a German manufacturer of motorcycles. The factory is located in Zschopau, Saxony.  The history of brand began in 1906, when Jørgen Skafte Rasmussen, the men from Denmark, had acquired an empty cloth factory in the above-mentioned town. He started producing engines for bicycles, accessories, steam engines and more. During the First World War, the company was reoriented on detonators` releasing. In 1923, it was renamed as DKW, when the first motor bicycles were made. In 1929, it's number reached to 60,000. In those days, the Rasmussen`s plant was one of the largest motorcycle manufacturers. At the same time, the enterprise had large debts, but firm successfully solved the problem by union with Auto Union AG, Horch, Audi, and Wanderer.
The symbol looks like four rings which you can see on modern Audi automobiles. In 1939, the company launched a serial production of some DKW motorcycle models for Wehrmacht's order. During the Second World War, the factory shop of motorcycle releasing was moved to Villishtal. In spite of some difficulties, the company continued the technique manufacturing. In 50th, production was returned to Zschopau. In 1958, DKW became a part of the Zweirad Union Group, and the factory got a new name – the VEB Motorradwerk Zschopau – MZ.  In 1991 MZ was privatized and named as MuZ. The company started releasing powerful motorcycles equipped with Japanese and Austrian engines. In 1999 MZ name was returned to the enterprise. Nowadays it is controlled and financed by Malaysian Hong Leong Industries Berhad company.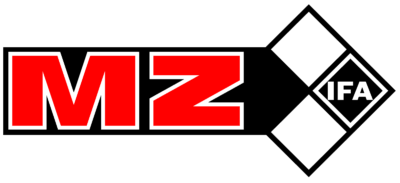 In 2008, MZ company ceased to exist. The reason is simple and quite banal – the production of motorcycles has become unprofitable. So its executives decided to eliminate the concern. In 2013, former racers Waldman and Wimmer tried to revive the company, but their attempts were unsuccessful.
Logos and emblems of MZ Motorrad company