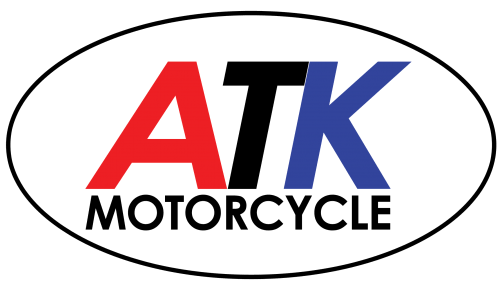 Information about the company ATK
Founded
1980s
Founder
Horst Leitner
Headquarters
Centerville, Utah, USA
Partners
Hyosung (South Korea)
Official Website
www.atkusa.com
History of ATK motorcycles and logo
«ATK» («АТК America Inc.») is an American company of manufacturing sports production established in 1980 by technology specialist Horst Leitner from Austria. «ATK» motorcycles and other vehicles are produced in the USA. Actually, the title of brand contains an encrypted feature of motorcycles technical equipment. So the «ATK» is an abbreviation. «Anti Torsion Kettensystem» is a reducing of system name that provides a continual chain tension, regardless of rear suspension movement, which is used to develop brand`s technique. This system greatly facilitates the process control of a machine.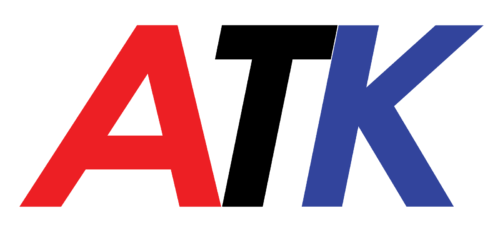 The concern is USA origin, so its logotype is noticeably laced with notes of patriotism. First of all, the main color spectrum is white, red and blue (these colors are represented on the flag of the United States of America). Secondly, logotype contains a mini-image of the flag and veiled «USA» inscription.
Overall, the modern official logo looks like this: the tiny image of the American flag is located in the upper left corner; further, designers used a fairly creative solution – from the bottom they depicted an «us» inscription in Latin which smoothly flows into capital «ATK» letters.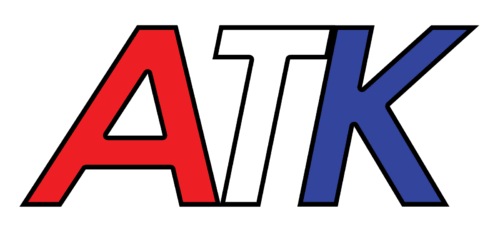 Thus, ATK logo contains a company name, and at the same time indicates the manufacturer country. In addition, it points to some technical features of the brand, that are encrypted in the title. The «ATK» abbreviation is colorful. Each letter has its own color: «A» is red, «T» is black, and «K» is blue.
Logos and emblems of ATK company