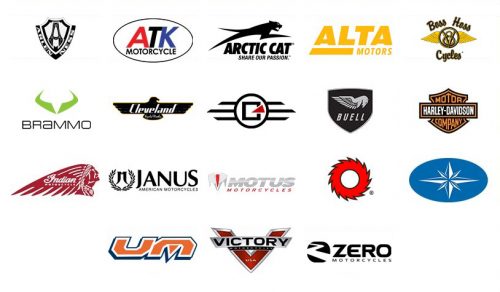 United States of America can be proud of its motor vehicles which are demanded on world market. In fact, America has a huge impact on producing of two-wheeled technology. For example, this country released renowned «Harley», «Choppers» and «Buell» models. The popularity of American production led to the copying its goods by other companies. For example, Chinese manufacturers try to emulate the famous USA motorcycles.
USA brands
The «Harley-Davidson» company, established in 1920 by William Sylvester Harley, become a great motorcycle manufacturer. The models of this brand are successfully sold in 67 countries around the world. Nowadays, after many years, «Harley-Davidson» company (or, as it is also called «Harleys») is still demanded on market. The customers are delighted by stylish design and high quality.
The «Buell» company was established in 1983 by Erik Buell. Before creating the brand Erik was known as an engineer of «Harley-Davidson» company. «Buell» is famous by creating of sports motorcycles. For example, nowadays the popular «enduro» sport motorcycles are very demanded on market. In 2006 company started manufacturing tourist group models like «XB12X Ulysses».
The «Arctic Cat» company has been existing on market for more than 30 years. It is one of the most popular manufacturers of snowmobiles, off-road vehicles, generators, and other components. Also, the firm «Arctic Cat» brand releases environmentally friendly four-stroke engines.
«ATK» company was created in 1980 by an Austrian engineer Horst Leitner. From the very beginning it released bicycles, which were extremely demanded among the population. Nowadays «ATK» production is highly appreciated in the world. The real motorcycle fans prefer this brand for its reliability, safety and gorgeous design.
«American Iron Horse»
The «American Iron Horse» brand is considered to be the typical representative of co-called «alternative» companies. It was established in 1995. Its cruisers and choppers glorified the brand among car enthusiasts. In addition, the «American Iron Horse» produces wheels, components for chassis and brake systems.
«Big Bear Choppers»
The «Big Bear Choppers» production revolutionized the world of motor technique. As soon as the motorcycles of this brand appeared on market, the manufacturers   of other analogic models changed specifications and design of their products, paying particular attention to the customers` needs. «Big Bear Choppers» is famous by its power, speed and comfort.  All these qualities are comparable with high level of automobiles.
The «Boss Hoss» was found by Monte Warne in 1990. It specialized in manufacturing of two- and three-wheeled machinery. The «Boss Hoss» emergence made a huge impression in the world. Brand has more than 40 dealers around the globe, its products are still popular and demanded nowadays.
«Fischer»
In the 90s of the 20th century renowned American motorcycle racer Dan Fischer created his own studio, which soon became a very popular company of releasing «Fischer» motorcycles. Nowadays it produces high quality sport motor vehicles that can be comparable with leading European and Japanese brands.
«Lightning»
The «Lighting» company got its name not by accident. Established in 2012 company was orientated on manufacturing electric motorcycles. In 2013 brand started producing electric technique. So motor vehicles become available for ordinary customers. The «Lighting» model range is designed for all tastes and budgets. The battery is produced at special stations and has an ability to overcome about 240 km without additional recharges.