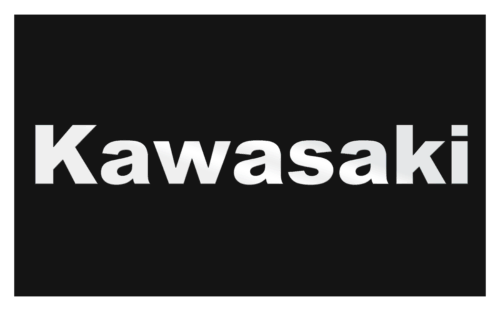 Information about the company Kawasaki
Founded
1896
Founder
Kawasaki Shōzō
Headquarters
Kobe and Tokyo, Japan
Key people
Shigeru Murayama (Chairman) Yoshinori Kanehana (President)
Official website
global.kawasaki.com
History of Kawasaki  motorcycles and logo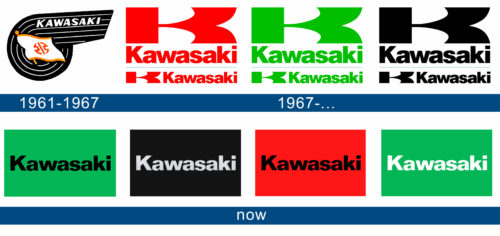 «Kawasaki Heavy Industries, Ltd» is one of the greatest industrial companies around the world. Nowadays it produces airplanes, helicopters, robots, jet skis, tractors, trains, engines, arms, motorcycles, all-terrain vehicles, and other techniques. The company was established by Shozo Kawasaki in 1878 as a low shipyard. «Kawasaki» needed a lot of time to start active development in other directions and explore new horizons.
After recovering from the Second World War, the company began to restore the work. The first experimental engine model (two strokes, volume of 58cc) was created in 1950. It was appointed on bicycles. In 7 years «Kawasaki» presented the «Meihazu 125» motorcycle and that was a real breakthrough. A little bit later, the company released a new improved model «125 В8» which won the gold medal at the Japan competition. During the 60's — 70's of XX century, the firm received the rank of the most powerful bikes` manufacturer. A lot of championship motocross and road bikes «Ninja» with Kawasaki logo were created then.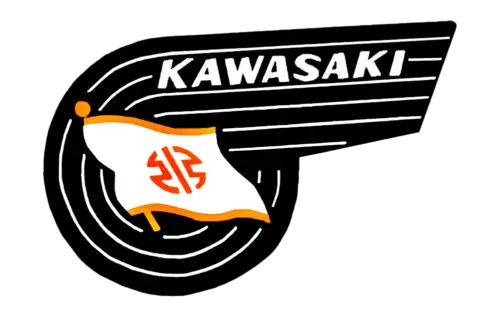 In 1983, the firm released a new, powerful bike «GPZ-900R», which is popular and well-known till now. At the moment, the company has a huge lineup of products «for every taste and budget». In the twenty-first century as in all the previous years, the Kawasaki brand has always been releasing the high-quality motorcycle models.
Recently, the logotype of the company looked like a description in white letters on a black background («Kawasaki» in Latin). Three green strips with different thickness decorate the emblem below. However, since 2011 this Kawasaki logo is considered to be officially outdated.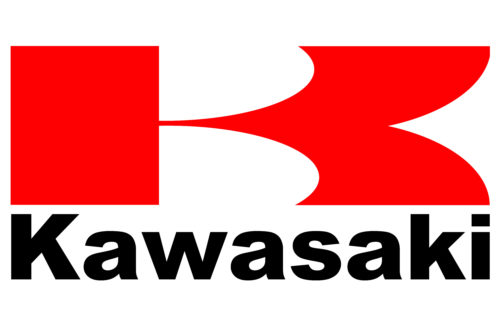 In 2014, the new updated logo Kawasaki was publicly introduced in the presentation of a fresh «Ninja H2» motorcycle. But, this emblem was already used in the 60s. There we can see a white flag with the image on a black background. The symbol resembles an inverted letter «b».
The modern «Kawasaki Heavy Industries, Ltd.» logotype looks like the capital letter «K», and «Kawasaki» brand name, is written in Latin red letters.
Classic black, white and red colors of Kawasaki emblem were presented in 2014-2015. The red color symbolizes peace, security, prosperity and power. Japanese people usually associate any important stage in life with white color. The black one means courage, valor, and strength.
Logos and emblems of Kawasaki company