Information about the company Moto Guzzi
Founded
March 15, 1921
Founder
Carlo Guzzi Giorgio Parodi Angelo Parodi
Headquarters
Via Parodi 57, Mandello del Lario, Italy
Key people
Roberto Colaninno (CEO) Daniele Bandiera (Chairman)
Parent
Piaggio & C. SpA
Official website
www.motoguzzi.com
History of Moto Guzzi motorcycles and logo

The «Moto Guzzi» company was based in Genoa, on 15 March 1921 by three friends: ship-owner Emanuele Vittorio Parodi, its son Giorgio and ex-pilot of the Air Force Carlo Guzzi. Having got the financial assistance from Parodi father, they released the first «Normale» motorcycle with an engine capacity of 8 horsepower. The next level was the union with «Benelli» brand. After that, it began to produce powerful, off-road motorcycles.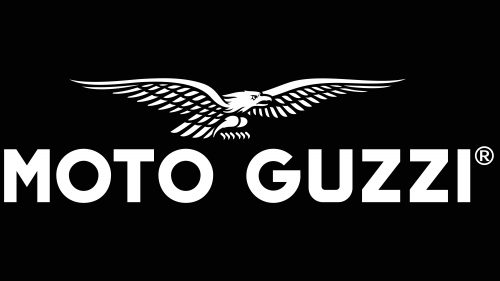 The financial crisis made company to overcome big troubles. In 2000, executives of «Aprilia» bought the firm and left it functioning. The company created a new «Moto Guzzi» models and kept the main features of Italian style.
The freely flying in blue sky eagle is depicted in memory of Parodi, who died during a flight training two years before the company foundation. During its existence, the firm often changed the emblem but the famous flying bird has always remained an important integral part. In 1939, logotype looked like a flying eagle pictured on a white background with «Moto Guzzi» lettering below. The Later emblem was changed. A new variant of logo consisted of a bird and company name inscription inside the red oval. Later, Moto Guzzi logo was modified again. It became bulkier, brighter and «live». Next time designers decided to create an emblem with lighter colors; eagle and inscription were painted yellow.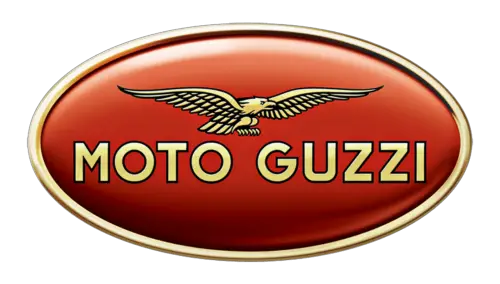 The company started manufacturing of motor technique after the First World War. After the Ravelli`s death in an airplane crash, his friends Parodi and Guzzi created a new brand logotype, showing their spirit of camaraderie and a common passion for flying. Of course, a soaring eagle again becomes the main element of the image. Initially, logotype contained with the image of the gold bird and «Moto Guzzi» Latin sans-serif font lettering. However, in the 70's – 80's picture was changed so the scope of bird wings formed a straight line. Later, by the end of the 80s, owners decided to return the previous version of a golden eagle. In the 90th the official image looked like the red flat oval with gold trim, unchanged bird and the name of the company inside. In 2004, the basic model of the image was the same. Only the color gamut was corrected (it became much brighter) and, in addition, designers made a three-dimensional logo.
Logos and emblems of Moto Guzzi company