Information about the company Husaberg
Founded
1988
Founder
Thomas Gustavsson
Headquarters
Mattighofen, Austria
Parent
KTM
Slogan
"4 Stroke Force – Pure Enduro"
Official website
www.husaberg.com
History of Husaberg motorcycles and logo
In 1988 the Italian «MV Agusta» company became the owner of Swedish «Husqvarna» firm. As a result, Swedish engineers lost their jobs. But Thomas Gustavsson coped with this problem by associating the remaining staff. He successfully recovered and renewed the manufacturing of renowned off-road motorcycles. Initially, the very first projects were designed in a small wooden shed at shores of Vättern lake near Husabergs Udde. The company title comes from this town name. It specializes in assembling of different off-road vehicles, supermoto, and enduro, emphasizing on the strength and sophisticated design. Soon sponsors for design and engineering of newest «Husaberg» brand motorcycle were successfully found. Provided financial assistance was very poor, but anyway firm gained recognition, won many victories and get 17 titles of a motocross championship.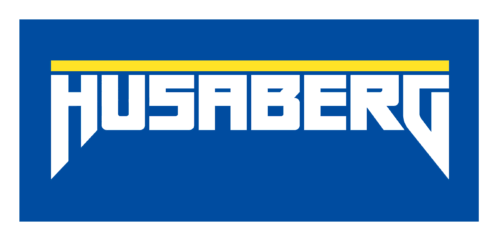 In 1995 «Husaberg» became a subsidiary of the Austrian «КТМ» manufacturer and managed to save its main departments in Sweden. This led to the further modernization and improvement of Swedish enduro motorcycles.
In 2003 company of manufacturing motorcycles moved to Austria. 5 years later, «Husaberg» made a real revolution in motorcycle history by creating a four-cylinder engine with an angle of inclination of 70.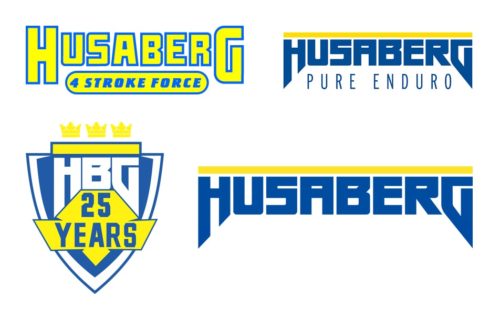 «Husaberg» is a brand of Swedish origin. Actually firm has received its name by accident. During the official registration at technical inspection, workers discovered that motorcycle was not marked by any brand. So organizers categorically refused to include this motorcycle model to the competitors` list. The only right solution was to name the company as a «Husaberg». Then its owner Thomas Gustavsson was given an official permission to participate in the Enduro races in Skillingard (South Sweden). Husaberg is a town where the motorcycle was created and constructed so that was the best variant for the company name. So the official «Husaberg Motor AB» brand was established this way.
The modern company logotype is made in yellow and blue colors (like a Swedish flag – an important element of patriotism). The blue Husaberg logo inscription is shown on a yellow background. It enclosed in ellipse firm`s slogan «4 stroke force» imaged underneath.
Logos and emblems of Husaberg company