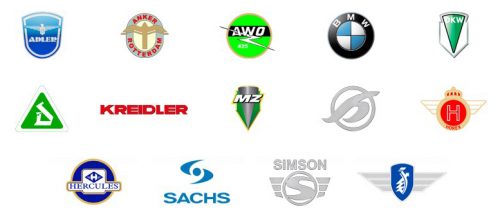 German motorcycles are created in various specific categories and different purposes for all life occasions. Some innovations of motor vehicles production have been successfully used since the pre-war period. Certain rare motorcycle models, used in the times of Wehrmacht, are the exhibits of many museums around the world today. Nowadays the German motor vehicles production has the title of standard and the demand on its technique are increasing every year.
The history of German motorcycles
German motor vehicles production was extremely popular in early 1930s – late 1940s. This period is characterized by increasing the volume of motorcycles production especially comparing to previous years. This is connected with fact that motorcycles were used not only by civilians, but also on the military battle fronts during the Second World War. Wehrmacht tried to create the universal transport «for all occasions», that is why the German technique, particularly motorcycles, even then presented itself very well. It maintains the image of quality and proven by time production.
German brands
The very first «BMW» motorcycle of Bavarian concern was created in 1922. The company made a real breakthrough in the world of motor technique. «BMW» managed to create the «perfect» engine. In addition, they were the first who started using the innovative type of frame and bearing. Concern showed itself as high class manufacturer of sports and motocross bikes, enduro, and other types of motorcycles that characterizes by elegant design and high level of quality.
The «Adler» company was established by Heinrich Kleyer in 1880. In the very beginning firm produced bicycles and typewriters. Later it started manufacturing automobiles (from 1900 to 1939) and motorcycles (the postwar period). The first «Adler» car was released in 1990. Company has been created motorcycles for 8 years since 1949. So its successful production won prizes at many competitions and exhibitions.
«Brennabor»
The «Brennabor» company was established in 1871 by Adolf, Karl and Hermann Reichstein and existed until 1945. They produced motorcycles, baby carriages, bicycles and vehicles. It started manufacturing the series of motorcycles in 1901. After The Second World War all production details were dismantled, and «Brennabor» was replaced by the factory of producing tractors.
«Dampf Kraft Wagen» is a famous German brand of manufacturing auto and motor vehicles. Company existed from 1916 to 1966. «DKW E 206» (released in 1925 as one of the first models), «DKW Luxus 200» (called in common "bubble of blood" for the red tank), and «DKW RT 125» (produced in 1939) are considered to be the most successful and popular models among many others.
Later company started using a new abbreviation deciphering «DKW: Des Knaben Wunsch», translated as «The Dream of Boys».
The «Hercules» company was established in Nuremberg in 1886. For its short but very productive period of existing «Hercules» focused on creating middle-class road bikes and first-class sports bikes.
The history of «Horex» company started in 1921 and its development was quite successfull. After creating the more powerful engines in 1926, new renowned collection of sport motorbikes started winning prizes at different competitions. Up to 1941 company actively developed the motorcycle racing type and a serial models of low cost. But in 1941 manufacturing was stopped till 1945. From 1945 to 1960 «Horex» tried to head above water, released new motorbikes models and its details but unfortunately it did not manage with strong competitors. In 1960 firm finally gone down in history.
«Schradler»
«Schradler» is one of the most popular brands of releasing German motor technique of the second half of the XX century. It was established in Stuttgart in 1951. Producing was mainly directed on sports and racing motorcycles. The company developed quite rapidly and took the leading positions on market. However, in 1982 group ceased to exist due to bankruptcy.
 «Muench»
«Muench-4 1200 m Mammoth» model is considered to be one of the most famous motorcycles created by Friedl Munch in 1968. Initially, it had a V-shaped t-head engine, and in autumn of 1968 partners Floyd Clymer and Friedl Munch presented the 500-cc two-cylinder four-stroke racing engine. The motorcycle became extremely popular among the population. However, despite the success of the project, Friedl Munch went bankrupt and sold the rights to his own company in 1971.  
«Motorradwerk»
«Motorradwerk Zschopau» is the motorcycle manufacturing plant, founded in 1906 in Chopan, Germany. The production of motorcycles was started in 1922. After creating a several successful models, the company has been released its products under the «MZ» brand since 1956.
«Motorradwerk» released high quality serial motorcycles of simple construction. The models of «MZ» brand were very prosperous in motor sports.
Much later, the demand for this company products began to fall, and in 2008 it has been removed completely. Further attempts (the last one was in 2013) to revive the group failed.
The «Sachs» company started existing in the nineteenth century from producing bicycles, motor details and powertrains. In addition, until recently times, firm has not been released products under its own brand. Before all the products received the «Sachs» brand name in 1995, company mainly engaged in sports off-road motorcycles manufacturing. Nowadays, it has significantly expanded the range of produced models.
«Simpson»
The «Simpson» company is a leading German company, established in 1856. It specialized in production of bicycles, automobiles, firearms and mopeds. After the collapse of the GDR, the motorcycle production of this brand was significantly reduced. The latest motorcycle models came off from the «Simpson» conveyor in 2002, and in February of 2003 the firm went bankrupt.
The «Zündapp» German company of manufacturing detonators and ammunition was found by Fritz Neumeier in Nuremberg in 1917. In 1919 it was repurposed, and firm started producing motorcycles. During the Second World War motorcycles of «Zündapp» brand were delivered to the Wehrmacht. One of these models was a «Zündapp KS 750» motorcycle with a sidecar.
In 1984 company went bankrupt and totally sold all its estate to Chinese government. Later that stuff was deported and re-installed in China. A new motorcycle «Tianjin Motorcycle Co» company was established this way.